Ocular Surgery News U.S. Edition, November 10, 2019
Eleni Konstantinou, MD; Naveen K. Rao, MD
A 24-year-old woman initially presented to an optometry office complaining of a red and painful left eye. She wore monthly soft contact lenses that she changed every 2 months but reported she had never slept or went swimming in them. Her symptoms started 1 day before presentation when she noted blurred vision and mild light sensitivity in her left eye. She replaced her contact lenses with a new pair without relief of her symptoms. On the day of presentation, she woke up with 8 out of 10 pain associated with tearing and photophobia.
Her medical history was significant for hyperthyroidism. She had no previous ocular history.
Examination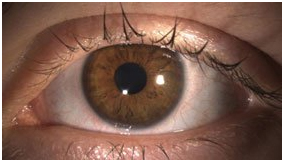 Figure 1.Diffuse illumination technique of the left eye showing minimal injection and 360° perilimbal neovascularization.
Source: Eleni Konstantinou, MD, and Naveen K. Rao, MD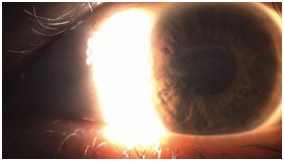 Figure 2. Sclerotic scatter illumination technique demonstrated a ring haze paracentrally with no frank epithelial defect.
At the initial examination as reported by the optometrist, the patient's vision was 20/20 in the right eye and 20/70 pinholing to 20/30 in the left eye. Color plates were full in both eyes. Pupils were equal, round and reactive without an afferent pupillary defect. Extraocular movements and confrontation visual fields were full and intact in both eyes. IOP was 11 mm Hg and 12 mm Hg in the right and left eyes, respectively. Anterior segment examination was significant for 2+ conjunctival injection, diffuse pigment epithelial erosions and superficial neovascularization superiorly around the limbus but not extending into the cornea in the left eye. There was no frank epithelial defect, but there were epithelial ridges in the affected eye. The anterior chamber of the left eye was deep and quiet with a normal iris and lens. The right eye was normal with only mild superficial neovascularization superiorly.
At that visit, the patient was started on erythromycin ointment four times daily by the optometrist and then was seen again in 1 week. At that time, the vision in the affected eye was 20/200 pinholing to 20/50. There was no improvement of the epitheliopathy on examination, so she was started on tobramycin-dexamethasone drops three times daily and erythromycin ointment at bedtime. One week later, the patient was not improving clinically, and she was referred to the cornea department at Lahey Medical Center.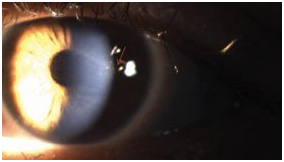 Figure 3. Proximal illumination technique demonstrating the ring haze (red arrow) paracentrally and epitheliopathy.
On examination in the cornea clinic, the visual acuity in the left eye was unchanged. Anterior segment exam demonstrated minimal injection and 360° of perilimbal neovascularization (Figure 1). Diffuse epitheliopathy and a ring haze were noted paracentrally without frank epithelial defect (Figures 2 and 3). One-plus anterior chamber cell was noted. Dilated fundus examination was unremarkable. The examination of the right eye was normal.
Red, painful eye
The patient was found to have a ring haze paracentrally with associated epitheliopathy and pain out of proportion to her exam. She overused her contact lenses, wearing them longer than the recommended 1 month, but denied sleeping or swimming in them.
The differential diagnosis of pain, redness and light sensitivity in a contact lens wearer with epitheliopathy and a ring haze on exam includes Acanthamoeba keratitis, herpetic keratitis and fungal keratitis. A ring haze and infiltrate can also be seen with proparacaine abuse. Our patient did not have any dendritic lesions, and there was no ulceration that could be seen, which is inconsistent with a herpetic keratitis. In the context of a contact lens wearer with no history of ocular pain, proparacaine abuse was unlikely. Upon further questioning, the patient admitted to occasionally showering in her contact lenses and rarely changing her contact lens case. The most likely diagnosis was Acanthamoeba keratitis.
Confocal microscopy was obtained of the patient's left cornea demonstrating classic double-walled cysts and inflamed corneal nerves (Figure 4). The epithelium of the left eye was debrided and sent for cultures. Cultures were negative for Acanthamoeba, but given high clinical suspicion and the confocal findings, the patient was started on chlorhexidine 0.02% every hour in the left eye and preservative-free artificial tears as needed. Tobramycin-dexamethasone drops were discontinued, and the patient was advised to restrict from contact lens wear. She was followed closely with confocal imaging every week. After debridement, her vision improved to 20/30 in the left eye, and she was continued on chlorhexidine.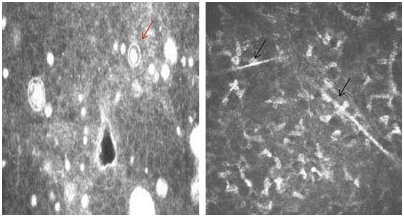 Figure 4. Confocal microscopy of the basal epithelium demonstrating double-walled cyst (red arrow) on the left and inflamed posterior corneal nerves (black arrows) on the right.
Discussion
Acanthamoeba is a free-living, single-cell microorganism and ubiquitous pathogenic protozoa. The organism can be found in two forms; active, motile trophozoites or dormant, double-walled cysts. When the conditions do not allow further growth, the organism converts from trophozoite to the more durable cyst form, making the organism resistant to being killed.
The organism can cause chronic granulomatous encephalitis and cutaneous amoebiasis in immunocompromised individuals and lead to severe, painful keratitis in immunocompetent patients.
Acanthamoeba keratitis is a severe and painful keratitis that can be vision threatening. The disease was first reported in contact lens wearers in the mid-1970s and found to be most commonly associated with contact lens use. It is believed that corneal microtrauma induced by contact lens wear is the mode of infection. Animal studies have shown that the amoeba is only pathologic when the epithelium is compromised.
Acanthamoeba keratitis usually is recognized late. The patient is typically a contact lens wearer who presents with pain out of proportion to exam, photophobia, decreased vision, injection, irritation and tearing. Occasionally, the source of infection can be identified, such as swimming in a lake, pool or hot tub while wearing contact lenses or exposure to standing ground water, but more often than not routine contact lens wear may be the sole risk factor. Often, the patient has been treated for bacterial keratitis without therapeutic response to topical antibacterial agents, as seen in our patient.
Early findings on examination demonstrate irregular epithelium, punctate epithelial erosions, dendritic-appearing lesions and conjunctival injection. The early presentation is usually mistaken for herpetic disease because of the dendritic-like appearance of lesions. The patient receives treatment for herpetic keratitis without improvement. Later in the course of the disease, stromal infiltrates progress and a classic "ring infiltrate" as well as frank ulceration can occur. Radial perineuritis, seen mostly on confocal microscopy, is typical for Acanthamoeba keratitis and perhaps can explain the pain out of proportion to exam.
Diagnosis is made by visualizing amebae on confocal microscopy, in stained smears or by culturing organisms obtained from corneal scrapings. The culture yield is laboratory-dependent, with larger studies reporting only 35% to 50% sensitivity. A significant number of cases are treated based on clinical presentation and/or confocal microscopy findings. Occasionally, lamellar corneal biopsy may be required to establish the diagnosis in some cases. With regard to histopathology, several stainingshave been used to identify the organism including calcofluor-white, periodic acid-Schiff, and hematoxylin and eosin. Calcofluor-white is a fluorescent blue dye that binds to cellulose and chitin in the cell wall visible with fluorescent microscopy. Acanthamoeba usually grows on non-nutrient agar with E. coli overgrowth. Early diagnosis is an important prognostic indicator of a successful treatment outcome.
Treatment of Acanthamoeba can include both a medical and surgical approach. The goal of the medical therapy includes eradication of viable cysts and trophozoites along with rapid resolution of associated inflammatory response. Several classes of agents can be used for treatment of the disease, including biguanides (polyhexamethylenebiguanide and chlorhexidine), diamidines (propamidine and hexamidine), imidazole and triazole antifungals topically and/or orally (miconazole, ketoconazole and itraconazole), and aminoglycosides (neomycin). These agents can also be toxic to the corneal epithelium.
Extensive debridement of affected corneal epithelium may be therapeutic if performed early when disease is intraepithelial. More invasive surgical approaches such as penetrating keratoplastycan be considered when the infection is resistant to medical therapy. If there is severe stromal melting with threatened perforation or fulminant corneal abscess, a therapeutic PK may be considered. Optical PK can be considered when there is residual corneal scarring. Better outcomes have been reported with optical PK.
Clinical course and management
Our patient underwent therapeutic epithelial debridement, which allowed better penetration of anti-amoebic therapy and debulked the amoebic trophozoite load in the basal epithelium. She was also started on chlorhexidine every hour and followed weekly with confocal microscopy. At 1-week follow-up, her vision improved to 20/30, and her confocal imaging demonstrated persistent cysts in the anterior stroma. At 2-week follow-up, her vision improved further to 20/20, and the confocal did not show any cysts or organisms; therefore, the chlorhexidine was decreased to every 2 hours. At 3-week follow-up, chlorhexidine was further decreased to every 4 hours for 2 weeks given no cysts on confocal and then to four times a day until no cysts were visible on confocal for a month. Chlorhexidine was then discontinued. On her last follow-up appointment, the patient had no evidence of recurrent keratitis.
References:
Albert D, et al. Albert &Jakobiec's Principles & Practice of Ophthalmology. Vol 1. 3rd ed. Saunders; 2008.
American Academy of Ophthalmology. Basic and Clinical Science Course. Section 08: ExternalDiseaseandCornea.
Clarke DW, et al. Trends Parasitol. 2006;doi:10.1016/j.pt.2006.02.004.
Jalbert I, et al. Br J Ophthalmol. 2003;doi:10.1136/bjo.87.2.225.
Kanski JJ, et al. Kanski's Clinical Ophthalmology: A Systematic Approach. 7th ed. Saunders; 2011.
Kurbanyan K, et al. Eye (Lond). 2012;doi:10.1038/eye.2011.270.
Tu EY, et al. 2008;doi:10.1097/ICO.0b013e31816f27bf.
Villani E, et al. Curr Eye Res. 2014;doi:10.3109/02713683.2013.842592.
Yanoff M, et al. 5th ed. Elsevier; 2018.
Formoreinformation:
Eleni Konstantinou, MD, and Naveen K. Rao, MD, can be reached at New England Eye Center, Tufts University School of Medicine. 800 WashingtonStreet, Box 450, Boston, MA 02111; website: neec.com.
Edited by Alison J. Lauter, MD, and Sarah E. Thornton, MD. They can be reached at the New England Eye Center, Tufts University School of Medicine, 800 Washington St., Box 450, Boston, MA 02111; website: neec.com.